I have just been given an internship at
CollegeFashionista.com.
Each Monday I'll take a photo of a Goldsmiths Fashionista/o and write a review of their outfit. This is my first...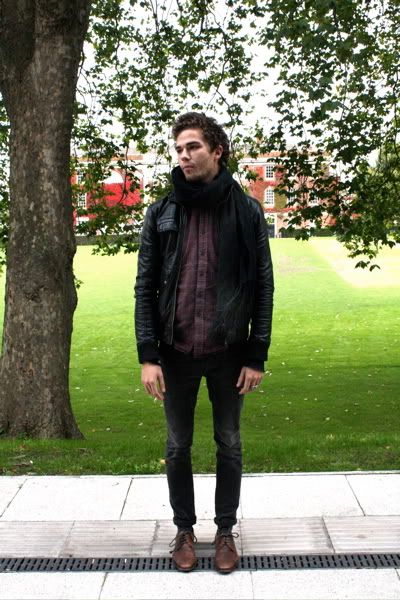 N
onchalant, comfortable and above all trendy; this Fashionisto has got the Autumn/Winter look spot on, effortlessly combining a perfect balance of vintage and high street in such a way that would make any man envious and any woman drool.
Although it pains me to admit it, winter is fast approaching, bringing with it an offensive chill to the air to say the very least. You know what that means… say goodbye to your beloved denim jacket until next year, and prepare to layer up.
This Fashionisto is on the money with his high street bought leather jacket; not only is it the perfect item to keep you warm, but it's also classic, timeless and as trendy as anything.
Underneath this, he wears a checkered shirt; a staple sixties inspired item, which can be seen as nothing but modish and cool. This, teamed with a pair of vintage brogues is positively faultless. Brogues are without doubt this winters most sought after footwear, and don't think that you have to spend an arm and a leg on a pair of designers, or traipse through vintage store after vintage store tracking them down, high street shops are recreating them left, right and centre.
Complete with a pair of worn jeans and a simple black scarf, we can only congratulate this Fashionisto for his impeccable taste and ability to put together such an awe inspiring arrangement, demonstrating the perfect example of a winter outfit, which is beyond trendy and cool.