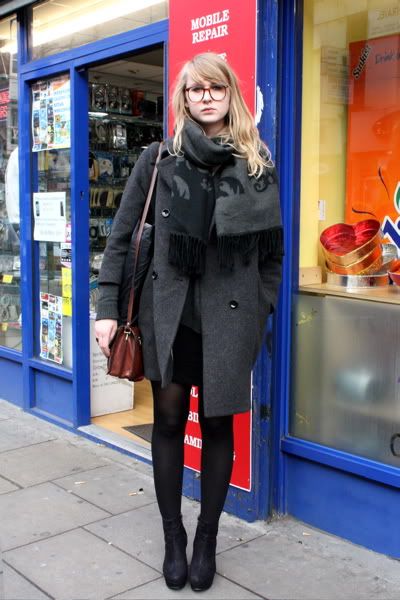 As I spotted this Fashionista walking down the streets of London, I instantly fell in love with her resonating attitude and simple, geek chic style.
Wearing her hair loose and messy, with a simple yet quirky outfit of neutral tones, this Fashionista is the definition of trendy. I absolutely love her loose fittingcoat, which she wears open showing a mischievous bit of leg – I am a big believer of skirts and dresses all year round. Teamed with a pair of lovely, simple black suedeboots (idyllic for the inevitably chilly days ahead), a vintage brown leather handbag – imperative for every Fashionista's wardrobe, and a unique bohemian scarf to keep that nasty chill away, this outfit is just great.
What I personally think sets the look off has to be her glasses, giving her that geek chic edge that is so very trendy at present. Whether you have perfect vision or in fact need them, why not make a statement? However simple your outfit, they'll give it that trendy edge, and who doesn't want that?
So the big question, where can you get the look? For those of us with 20/20 vision, Rokit, Urban Outfitters and of course my personal favourite eBay all have a great selection of clear lens glasses, so there's no need for us to miss out on the look, and for those of you that do, don't think that you have to stick to the (sometimes limited) opticians selection, why not buy a pair of vintage frames and get prescription lenses to fit? There are no limitations – treat them as a fashion accessory; make a statement and have some fun.