Did this style report for College Fashionista forgetting the fact that we're not allowed to shoot in front of a white background, oops! I just completely fell in love with my housemates outfit that day.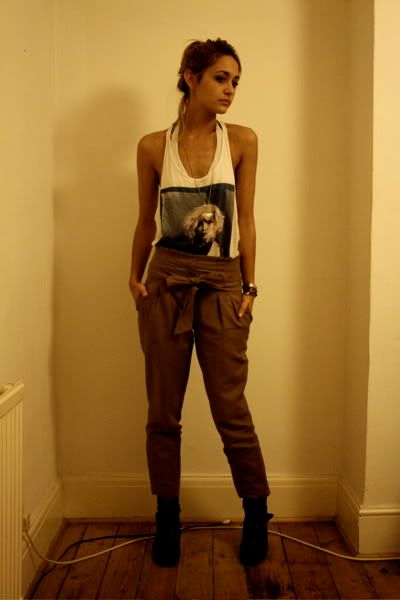 Easy and comfortable were the two adjectives that this Fashionista stated as best describing her style, and this outfit completely defines just that.
As soon as I saw her I fell in love with it; the high waisted linen trousers, the loose fitted Blondie top, the intricacy of the heart shaped pendant, all complete with a simple yet stylish pair of heeled boots. With her hair tied back in a messy bun, and such simple, natural make-up, she makes this look seem simply effortless.
The thing that makes this outfit so special has to be the trousers. They're as fashionable as anything, yet so comfortable, simple and wearable. I just love the bow detail, and the versatile, khaki colouring that can be paired with anything and everything; whether it be bright bold and eccentric, such as a shocking fuschia pink, or neutral, soft and subtle, similar to those in this particular outfit.
This Fashionista was lucky enough to pick them up for a bargain price at a Reiss outlet. You can copy the look by having a browse in Reiss itself, or for a cheaper option, Topshop also have some lovely high waisted trousers.
The great thing is that you can wear them to a lecture with a pair of brogues and be perfectly at ease, yet dress them up with some killer heels and a crop top for a unique 'going out' look.
So, comfort? Absolutely. Ease? Completely. Fashion? Without a shadow of a doubt. It would be positively wrong not to purchase a pair of these, and seeing a girl as trendy as this, how can you not be inspired?