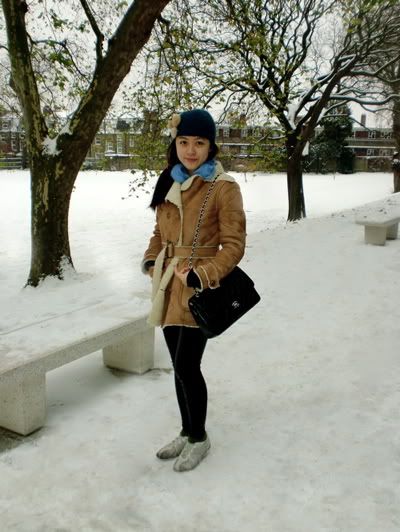 It's become an absolute Winter Wonderland in the lovely city of London this past week, and I've enjoyed every minute of it; snowball fights, snow angels, warming hot chocolates, wholesome soups and the opportunity to dress the part of course, which is exactly what this Fashionista has done.
It's essential to wrap up warm in these snowy conditions, and this Fashionista is completely on the money with her lovely attire. Not only does it tick all the boxes of a guide of how to keep warm, but she does it with the utmost style.
I absolutely love her cosy coat teamed with her adorable hat – I love the fact that there is a hint of the colour beige in the detail of the hat to link it perfectly to her coat.
Teamed with a simple pair of black leggings and a splash of colour in her scarf, the outfit resonates trend, but what I think completes her ensemble perfectly has to be her patent Chanel bag. Of course, not all of us can afford such luxury, but there are so many options for us to get the look. Faux bags are available left, right and centre; I would suggest looking at eBay and markets for such items. You can of course hunt through charity shops to see if you get lucky, there can be some truevintage gems in amongst the junk, that's for sure. But designer make or not, it's the idea of a statement bag that I think will complete any look this year; it's the perfect accessory.