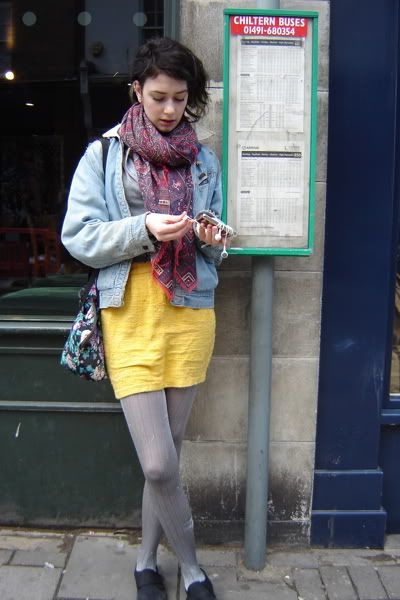 What better way is there to oppose the winter blues than with a spot of colour? This Fashionista is definitely in agreement with her colourful attire from head to toe.
I absolutely adore the vintage feel that this outfit holds. The timeless shabby-chic faded denim jacket is a must-have for any Fashionista, whilst a pair of grey tights is a great alternative to black, making the outfit that bit more vibrant and unique. With a statement skirt and a simple pair of shoes, this outfit is a great example of how to balance quirky and simple.
What I think ties the look together so perfectly has to be the vintage patterned scarf. Cosy – a must for the cold weather – fashionable and unique, it's an absolute must in your winter wardrobe. And where can you purchase such an item? Well, I would have to suggest raiding the rails of your local charity shops, as very often you can find the most unique scarves from second hand. Also a visit to a good market is bound to bring you to one, such as Shoreditch, Greenwich or Portobello. For a simpler and quicker option, Topshop currently have a really great selection, and most unusually, handmade cosmetics company Lush have an absolutely brilliant array of them for next to nothing.
So, no excuses girls! Get yourself into town and treat yourself, a lovely scarf gives any outfit that finishing touch.