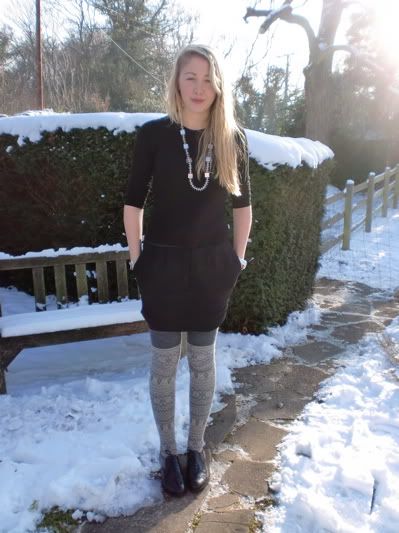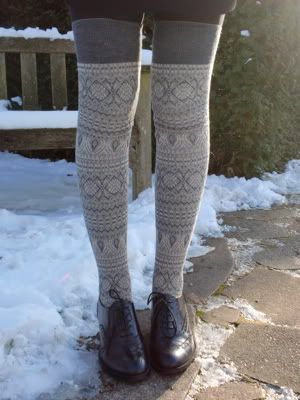 Sunny, sunny England, you never fail to amaze me. Continuous snow and freezing temperatures, when will I be able to write about mini dresses and sandals?!
Rant over, and on to the topic at hand; socks, socks, socks. Passing this Fashionista, I simply fell in love with her sophisticated and minimalistic style teamed with her resonating confidence. I absolutely love her use of simple cuts and monotone colouring – so refined.
Teamed with this simple attire of classic brogues, a mini skirt, jumper and a statement necklace, her over the knee, patterned socks are just the perfect accompaniment to make the outfit that little bit more special.
Where, I hear you ask, can you find such lovely stockings? Topshop have a great array at present, as do Urban Outfitters and Asos, at completely reasonable prices. How can you resist? Fashionable and warm, they're the perfect addition to your winter wardrobe, and what's more, they versatile.
I would suggest for you to wear them as this Fashionista demonstrates – with simple cuts and colours. Let them be the statement.
In terms of footwear, this Fashionista is without doubt on the money with her timeless pair of brogues – you just can't go wrong. High street bought suite her style perfect, but if you're into your vintage, have a browse on eBay as you can often find some true vintage gems.
So Fashionista's, what more can I say? Keep it simple and treat your socks as the statement – you can't go wrong.